Are you ready to meet Padel, the fastest growing and most popular sport in the world? Padel is a racquet sport played with a tennis racket and ball. Which has similar characteristics to tennis. Popular sports branch, especially in Latin American countries Argentina, Brazil, and Mexico. Europe's padel tennis representatives are Spain and England. It's known as ''Paddle Tennis'' in America.
Padel is a team sport that has similar features to tennis but played with teams of 2 each. It is a sport that has become very popular in the world as of the pandemic period. Played with a special padel racquet and a padel ball.
What is Padel Court?
Padel played in double teams with rackets produced for padel. Padel tennis court is 25% smaller than standard tennis courts. And played on an indoor tennis court. The same scoring system as in regular tennis uses for scoring. Besides, padel racquets and padel balls are produced.
Padel, like other sports, has an international federation. FIP (International Padel Paddle Federation) was established in 1991. Paddle courts are built following the padel rules determined by this federation.
What Are the Equipment of Padel Tennis?
What you need to play paddle tennis is a padel racquet and ball. Apart from this, all necessary equipment is placed on the field while the padel tennis court is being built and the field is made ready to play.
Paddle tennis is played in teams of two. It is a dual-sport. Call now for turnkey padel tennis court construction.
Ekip Grass installing amateur and professional padel courts for lovers. With our expert staff in padel tennis court construction.
Padel Tennis Court Construction
Padel courts are built on a certain system. The especially synthetic ground is used when making padel courts.  Artificial grass is one of the best paddle tennis surface types. This synthetic ground tennis court is surrounded by a panel fence and a safe sports field is made.
The types of floors used in the construction of padel courts are as follows;
Artificial Grass Padel Court
Acrylic Padel Court
Tartan Padel Court
Dimensions of Padel Court
When making a padel court, the construction of the court must be completed by the rules set by the International Padel Federation. Accordingly, while the padel tennis court was being built;
It should be designed 10 meters wide and 20 meters long.
A steel construction system and modular screw system should be installed and its height should be between 3 and 4 meters.
Panel fence should be used and 50mm x 55mm mesh intervals should be determined for 4mm thick panel fences.
10mm thick tempered glass should be used.
Tennis poles and nets should be used as equipment.
15 cm thick concrete should be placed on the floor.
Care should be taken to ensure that the ground is sloping and a slope of 0.05% should be given to prevent water accumulation.
Paddle grass should be used.
International standards are used when determining the dimensions of the paddle court. According to the dimensions determined by the padel federation, the dimensions of the padel court are made to be 10 meters wide and 20 meters long.
NOTE THAT: Optionally, it is possible to build an Acrylic padel court or a tartan padel tennis court.
Construction of Padel Tennis Court
First of all, the padel court must be installed by international standards. Apart from this, the following are the things to consider when making a padel court;
In the padel tennis court, the slope should be one-way.
Plywood molds should be used for the concrete beam floor.
If you are going to build an artificial turf padel court, the floor should be concrete.
If acrylic or tartan floor application will be made, the floor must be asphalt.
It should be ensured that it is resistant to impacts by using tempered glass.
How Long Does it Take to Build a Padel Court?
Padel court construction takes an average of 30 days. You can have a turnkey padel tennis court within 1 month. Considering the weather average duration is 1 month.
2022 Padel Court Cost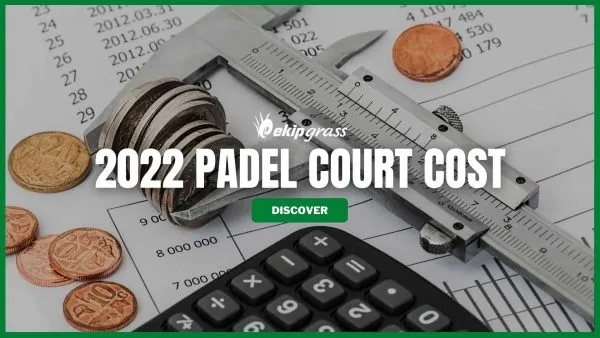 2022 Padel court construction cost varies depending on the type of floor used. Padel becomes very popular, especially with the pandemic process. Padel attracts the attention of many tennis lovers and takes its place among double sports. All you have to do for Padel court prices is to contact Ekip Grass. The cheapest padel court construction prices are with Ekip Grass.