Today, one of the biggest challenges with landscaping is choosing between lawn and artificial grass, also known as astroturf. The main difference between the two is that turf is natural grass and some of the soil beneath it is held by roots, while artificial grass, as its name suggests, is synthetic grass that mimics the natural lawn. But this is not the only difference between them. Today we will talk about the differences between natural turf and artificial turf. As an early takeaway, artificial grass appears to be more beneficial than sod.
You can see artificial grass models below. 
As 
Ekip Sports
 Company we are one of the best 
artificial grass manufacturers
 in Turkey. And we have been working in the artificial grass market for many years. We use the best technologies in production. We represent the best quality at reasonable prices. For further help, please contact us at any time.
Instead of listing the differences, we first learn what turf and artificial grass are. We will then list the differences between the two of them.
Artificial Grass Versus Natural Lawn
| | |
| --- | --- |
| ARTIFICIAL LAWN | NATURAL LAWN |
| It is resistant to sunlight. | It is not resistant to sunlight. |
| The color does not fade over time. | Over time, its color fades. |
| Used in 4 seasons. | It becomes unusable in winter. |
| It is quite long-lasting. Its useful life is at least 10 years. | Its service life is short. Seeds must be sown every year. |
| Does not need irrigation. | It should be watered. |
| No regular maintenance is required. | Regular maintenance is required. |
| It is a type of floor with reduced slipperiness. | It is slippery. Thus, it may cause accidents. |
| It can be produced in different colors. | It is produced in a single color green. |
| The maintenance cost is low. | The maintenance cost is high. |
What's better artificial grass or real grass?
Artificial grass is better because it is a type of ground that can be used longer than natural grass. Thus, it is often used both in sports fields and for landscaping purposes.
We can explain the differences between them by durability, cost, maintenance, and lifespan. Artificial grass is more resistant to sod. Because the lawn is natural and cannot be used. There must be periods of rest to keep him alive. Constant use of natural grass will kill the plants.
But, it is difficult and expensive to care for natural grass. You need to water, disinfect, and care for it. It will take money and labor. But for artificial grass, this is not necessary. No watering or maintenance is required. You can also use artificial grass all the time. There is no need for a rest period on artificial grass.
When we compare the lifespan, artificial turf appears to be more beneficial than a lawn. Sod is natural and retains its life-like plants. Natural grass is difficult to tolerate, especially in cold and hot weather conditions. But artificial grass can last a very long time. The average life expectancy is +10 years. This lifespan is intended for high-density sports fields. In landscape design, the lifespan can be over 20 years.
Artificial grass is more expensive to install. But ultimately more profitable. A longer lifespan and lower maintenance costs make artificial more desirable.
Where to use Artificial Grass?
Artificial grass, also known as artificial turf or astroturf, is a synthetic fiber surface that looks like real grass. Artificial grass is open to replace natural grass because natural is expensive and difficult to maintain. The raw material is oil, which, once installed, can be easily serviced with little to no maintenance or additional costs.
The artificial grass produced by tufting machines is a synthetic carpet. Its production is similar to the production of ordinary carpets in our homes, but only from other materials that make it look like grass. These materials are fibrils and monofilaments that make them appear as real as natural grass. Unlike natural herbs, you don't have to wait for the fibers to grow. Artificial grass is produced with the desired fibril length, which ranges from 5 to 70 mm, depending on the purpose of use.
Artificial grass has a very wide range of applications. The first and main goal was to use them in sports fields. But today, synthetic tennis courts, multipurpose sports fields, and golf courses are covered in artificial grass. Also, artificial grass is commonly used in landscaping today. Ornamental gardens in homes, hotels, restaurants, and even on the roadside are ideal places to use artificial grass.
Where to use Natural Grass?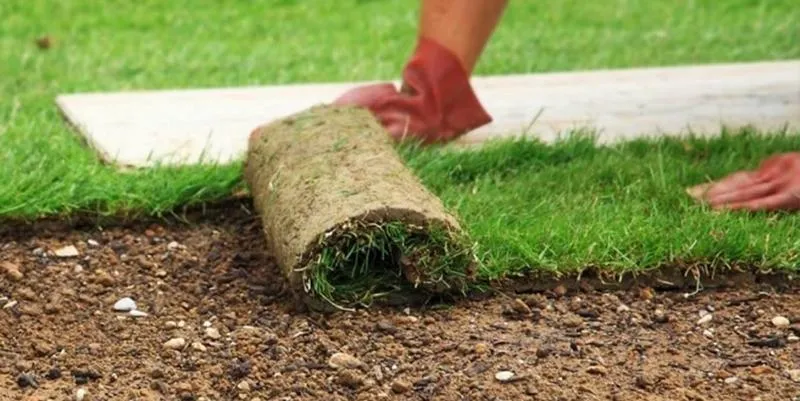 Sod is a natural and living plant. Usually, to get a natural grass field, you must follow the process of soil preparation, sowing, watering, and regular maintenance. Sod is a solution that shortens this process. If you want the field to be faster and easier, you can use instant turf. The peat process is not that complicated. Lawn companies prepare the field with natural grasses to the desired length, roll it up with the help of special equipment, transport it to the field and place it on well-prepared soil. The most important process is to properly prepare the soil before laying. Otherwise, the grass will die in a short time.
The turf is natural and appropriate everywhere. Possible sports grounds, gardens, landscaping. As we mentioned earlier, the main problem is that it is difficult and expensive to maintain. Also, weather conditions can easily affect natural grass and damage it.
Features of Artificial Turf
Resistant to harsh weather conditions.
Has a long life. There is no need to renew for a long time.
Does not need watering and maintenance.
Complies with FIFA approval and conditions.
Rest time is not required. Suitable for high-density applications.
Identical appearance with natural grass.
Desired color choice.
Features of Natural Lawn
Natural and alive.
Required for regular watering and grooming.
More realistic grass look.
The wonderful smell when it rains.
Requires regular maintenance.
Very good for landscaping.
The color is green.
Meet The Best Artificial Grass Manufacturer
Now you learned the Difference Between Natural lawns and Artificial Grass. Ekip Grass is one of the best artificial grass manufacturers in Turkey.  Ekip Grass installs artificial turf for every area you need. If you buy artificial turf for gardens, terraces, or football fields, Ekip Grass will help. You can find out the artificial grass prices by contacting us right away.